We want to equip Christian women in every sphere of life - church, community, family and business - to contribute effectively to God's purposes and plans. We aim to encourage and connect women leaders of all ages to develop their gifting and talent, to act strategically and be a voice on issues impacting women and girls. The Women's Commission is a network of the World Evangelical Alliance and has links to over 500 million when across the globe.
We want to develop Godly leadership in women so they are confidently using their gifts and contributing fully to the life of the Church
We want to see sound Biblical literacy on gender and equality
We want to respond to issues affecting women and girls such as family, violence, trafficking, persecution and health
We want to encourage men and women to work together, appreciating and championing each other.
We are a network and provide space for women from many different traditions and organisations to come together to learn from, and resource, each other.
We are a founding partner of Rise in Strength (
riseinstrength.net
) which is a platform for women in international leadership.
The Call to All Christians
is a prophetic statement setting out what evangelical women across the world want to declare about the experiences of women and girls. 
It was endorsed by the World Evangelical Alliance General Assembly in 2019.
The Women's Commission of the WEA operates in 8 regions – Africa, Asia, the Caribbean, Europe, Latin America, the Middle East/North Africa, North America, and the Pacific.
We work with evangelical alliances and also partner with groups from the wider Christian community.
We have a volunteer International Team of around 20 women leaders who guide the values and work of the Women's Commission and contribute effective strategies.
We are honoured to work with the Anti-trafficking Taskforce of the WEA, with organisations doing valuable research on religious persecution and various theological colleges.
AFRICA
Irene Muthoni Kibagendi (Kenya),
Executive Director of 
PACWA
(Pan African Christian Women Alliance)
ASIA
May Pan Lynn (Myanmar), Chairperson of the Women's Commission
CARIBBEAN
Sandra Martin (Antigua), Executive Director of the EAC Women's Commission
CENTRAL ASIA
Elya Sorokina (Uzbekistan), contact-person of the Women's Commission 
EUROPE
LATIN AMERICA
Fatima Oliva Roca (Bolivia), Coordinator of the Women's Commission (
AEL MUJER
)
Cinthia Hieber de Sarubbi (Paraguay), Communication 
MIDDLE EAST / NORTH AFRICA
Nabila Nakhla (Egypt) contact-person of the Women's Commission
NORTH AMERICA
Ellen Duffield (Canada), contact-person for the planning of the Canadian Christian Women's Collaborative Network
Jeanette Salguero (USA), contact-person of the NAE Women's Commission 
SOUTH PACIFIC
Rachel Taumoepeau (New Zealand), Director of the South Pacific Women's Commission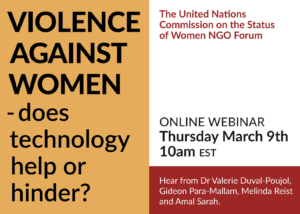 The webinar "Violence against Women – does technology help or hinder?" was held as part of the United Nations Commission on the Status of Women NGO Forum on Thursday March 9, 2023. Watch the recording
Read More »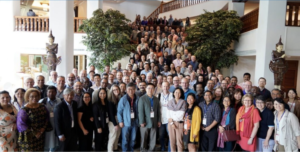 Between January 30 and February 3, 2023 the World Evangelical Alliance Mission Commission (WEAMC) held its 15th Global Consultation, with the theme: "Our Missions Future: local impact, ripples and waves."
Read More »
By Amanda Jackson on Amanda Advocates Next month the UN will host thousands of women in New York and online. The huge gathering is the Commission on the Status of
Read More »